UCLA Radiology Residency Program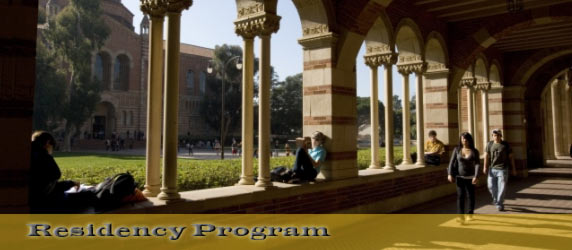 UCLA Radiology Residency Program
The UCLA Department of Radiological Sciences offers a 4-year residency training program in Diagnostic Radiology, including all aspects of medical imaging. The program is conducted at 5 major teaching hospitals within and associated with the David Geffen School of Medicine at UCLA. Rotating through all 5 facilities, the resident gains a broad exposure to all types of disorders, both the commonplace and unusual. The program leads to eligibility for examination and certification by the American Board of Radiology.
Robert D. Suh, M.D.
Vice Chair of Education
Director, UCLA Diagnostic Radiology Residency Program
Application
The UCLA Department of Radiological Sciences participates in the Electronic Resident Application Service (ERAS, http://www.aamc.org/eras) and the Match. The application package must be sent through ERAS. Because of the large number of applicants each year, only a limited number can be granted interviews. Completed applications with the exception of the medical school Dean's letter must be received by October 31, approximately twenty-one months before the desired starting date. Positions are filled through the National Resident Matching Program (NRMP).
Application Package
sent through ERAS
Common Application Form (CAF)
Personal Statement
Medical School Transcripts
Three letters of recommendation
USMLE Step 1; only passing scores will be considered
Medical School Dean's Letter
Recent Photo
International medical graduates
must submit ECFMG Status Report and California Evaluation Status Letter.
Residency Manager
757 Westwood Blvd
Los Angeles, CA 90095-7437
For additional information, please visit
UCLA Radiology Residency Program
.
Interview Dates
Jan. 08, 2019 (Tue)
Jan. 09, 2019 (Wed)
Jan. 10, 2019 (Thu)
Jan. 15, 2019 (Tue)
Jan. 16, 2019 (Wed)
Jan. 17, 2019 (Thu)
Jan. 22, 2019 (Tue)
Jan. 24, 2019 (Thu)


Recent Publications
Bongers M, Gupta J, Garza-Leal JG, Brown M, Felberbaum R.
Krysan K, Tran LM, Grimes BS, Fishbein GA, Seki A, Gardner BK, Walser TC, Salehi-Rad R, Yanagawa J, Lee JM, Sharma S, Aberle DR, Spira AE, Elashoff DA, Wallace WD, Fishbein MC, Dubinett SM.
Omigbodun AO, Noo F, McNitt-Gray M, Hsu W, Hsieh SS.
Volkmann ER, Tashkin DP, Sim M, Li N, Khanna D, Roth MD, Clements PJ, Hoffmann-Vold AM, Furst DE, Kim G, Goldin J, Elashoff RM.