Welcome to UCLA Thoracic Imaging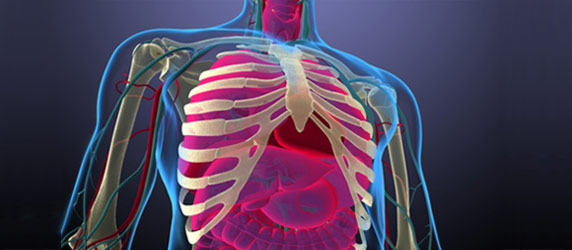 About Thoracic Imaging
The Thoracic Imaging subspecialty provides comprehensive imaging consultation on all pulmonary disorders. In addition to conventional chest radiographs and CT, advanced imaging techniques include high-resolution CT scans for the evaluation of focal lung processes, diffuse lung disease and tracheobronchial pathology; digital and advanced multiple-beam equalization radiography; and thoracic interventional procedures such as lung/mediastinal fine-needle aspiration and pleural drainage, and MR imaging of mediastinal and paracardiac pathology. The section has an active research interest in functional and computed radiology.
Radiology Organizations and Societies
Award & Honor
2011-2012
Outstanding Rotation as Chosen by Residents
2011-2012
Outstanding Young Faculty Teaching Award -
Dr. Fereidoun Abtin
2011-2012
Leo G. Rigler Award for Outstanding Resident Teaching - Senior Faculty -
Dr. Robert Suh
Recent Publications
Abtin F, Suh RD, Nasehi L, Han SX, Hsu W, Quirk M, Genshaft S, Gutierrez AJ, Cameron RB.
Mulshine JL, Gierada DS, Armato SG 3rd, Avila RS, Yankelevitz DF, Kazerooni EA, McNitt-Gray MF, Buckler AJ, Sullivan DC.
Oh AS, Arnold CW, Vangala S, Wallace WD, Genshaft SJ, Sarma K, Aberle DR.
Qiao XJ, Ellingson BM, Kim HJ, Wang DJ, Salamon N, Linetsky M, Sepahdari AR, Jiang B, Tian JJ, Esswein SR, Cloughesy TF, Lai A, Nghiemphu L, Pope WB.
Scarboro SB, Cody D, Alvarez P, Followill D, Court L, Stingo FC, Zhang D, McNitt-Gray M, Kry SF.